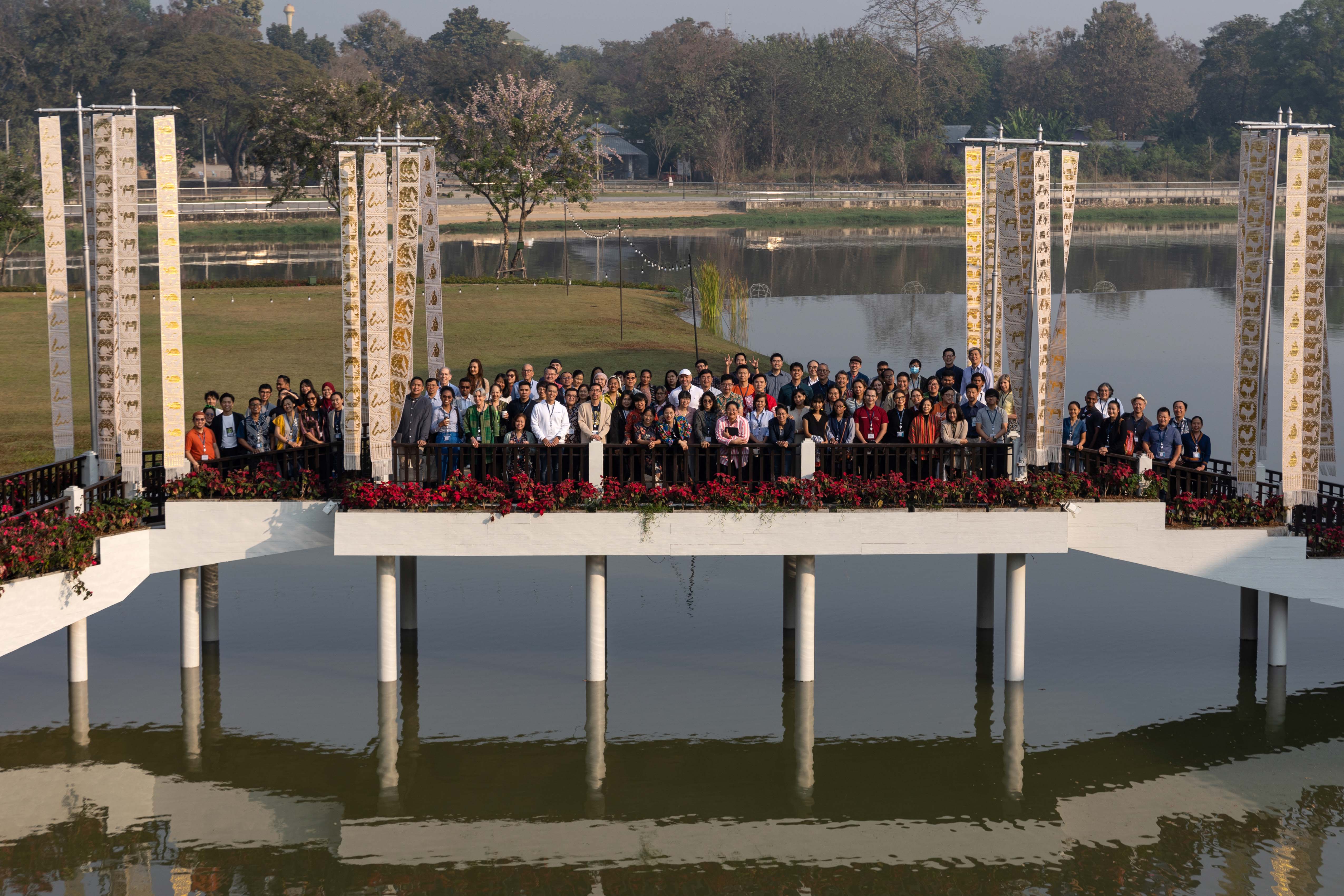 2023 Annual Forum: Strengthening the EI Equity Community
The Equity Initiative's Annual Forum, held February 1-4 in Chiang Rai, Thailand, was an opportunity for Fellows to exchange ideas across cohorts and to hear from leaders with deep experience in global health, international collaboration, and mobilizing resources for health equity. This was the first in-person Annual Forum held since February 2020, with the Equity Initiative's Equity Community being well-represented by more than 80 Fellows, and over 100 participants overall. High levels of energy and enthusiasm were evident as senior Fellows reconnected with each other, welcomed the newly inducted 2021 and 2022 Fellows, and met the rest of the growing Equity Community.
"Partnership" was an underlying theme of the Annual Forum, and a panel on "Building Partnerships to Advance Health Equity" gave Fellows practical advice on using partnerships to increase the impact of their work. Panelists Somsak Chunharas (National Health Foundation in Thailand), Le Minh Giang (Hanoi Medical University), and Suzanne Siskel(Asia Foundation), advised Fellows that building partnerships takes time, patience, and engagement. Partnerships need to be approached with a humble attitude and a willingness to understand the motivation of others. During an informal dialogue on "Resources and Partnerships for Health Equity Actions," Vivian Lin (University of Hong Kong), Keiji Fukuda (China Medical Board Trustee), and Surichai Wun'Gaeo (Chulalongkorn University), joined by Fellows Ada Chirapaisarnkul and Jeremy Lim, emphasized the importance of building social capital and using it effectively.
Keynote sessions featured two global health leaders: Dr. Agnes Binagwaho, former Minister of Health in Rwanda and founder of the University of Global Health Equity, and Dr. Cynthia Maung, a Karen medical doctor who founded the Mae Tao Clinic, which provides free healthcare to refugees, migrants, and orphans along the Thailand-Myanmar border. Dr. Binagwaho described the feeling of helplessness she felt upon her return to Rwanda in 1996, just two years after the genocide that killed hundreds of thousands of ethnic Tutsi. Motivated by a moral obligation to equity and social justice, she helped to rebuild the country's health sector, based on an equity framework. Dr. Maung described the education and health disparities she found among displaced people living along the Thai-Myanmar border, and her decades-long work with local communities to reduce high rates of maternal mortality, train local people to provide health services, and set up local clinics, as well as to address the issues of stateless people.
Additional sessions gave participants opportunities to learn about each other's work and interests to catalyze partnerships (Ideas & Action Marketplace), network and strategize within cohorts and country groups, hear updates about the Atlantic Institute and Atlantic Fellows Program, and enjoy bonding activities. A highlight of the Annual Forum was the ceremony held for 2021 and 2022 Fellows on the evening of February 3, with rituals marking their graduation from the induction year and formally welcoming them into the EI Equity Community, and the global community of Atlantic Fellows.
EI expresses its appreciation to all Fellows, keynote speakers, and resources persons, who made the Annual Forum such a rewarding experience. Together, they continue to make the Annual Forum the Equity Initiative's signature event in building a sustained Equity Community!
Related News
fellowship program
fellowship program
fellowship program